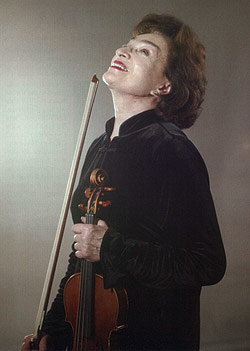 Nina Beilina
violin
She is an important instrumentalist and first-class musician to boot. Whatever she touched came out with incredible polish, assurance, and, when needed, brilliance. A violinist of formidable powers.
New York Times
A violin technique equal to all demands, the phrasing exact yet free as the flight of a bird.
London Times
Nina Beilina is known and loved by audiences on five continents. Her numerous recital appearances include performances at Carnegie Hall, Lincoln Center's Alice Tully Hall, and in important cities throughout North America. Russia, Italy, Germany, Belgium, Israel, Canada, Taiwan, South Korea, South Africa, Brazil, Argentina, Chile, and many others. In past seasons, Ms Beilina has repeatedly appeared with the American, Atlanta, Baltimore, Chicago, Detroit, Seattle and St. Louis Symphonies, the Minnesota Orchestra, the Brooklyn Philharmonic, and the Orpheus and Los Angeles Chamber Orchestras. Abroad, her engagements include concerts with the Santa Cecilia Symphony Orchestra, the RAI Orchestras of Milan, Rome and Turin, the BRT Philharmonic in Brussels, the Helsinki Philharmonic and the Jerusalem Symphony, among many others.
Nina Beilina first gained fame in her homeland after winning the Enescu, Long-Thibaud and Tchaikowsky Competitions. Subsequently, she became the foremost woman violinist in the former Soviet Union, as well as in Scandinavian and South America. Ms Beilina emigrated to the United States in 1997.
Since emigrating, her concerts have won critical acclaim: "A violinist of formidable powers" New York Times. "A sound so powerful, so enormous, that it appears epic. The intonation is fulminating, mathematically infallible, bordering on the incredible." Il Messaggero, Rome. "A gorgeous sonority at the service of a warm and brilliant technique; a muscular tone without ever becoming intrusive." Le Soir, Brussels. "Nina Beilina offered a performance which can seldom be matched .. After a standing ovation, Beilina played an encore .. which transformed the theatre into a temple and provoked a new ovation." Jornal do Brazil, Rio de Janeiro.
In 1983, Nina Beilina was awarded with the Viotti Gold Medal that is given to the Musician of the Year, in Italy. Since its es­tablishment, this medal has been given to great musicians, among them Renata Tebaldi, Mario Del Monaco, Arturo Benedetti Michelangeli, Galina Ulanova, Birgit Nilson and Igor Stravinsky.
Nina Beilina began her musical studies at the Central Music School in Moscow. She continued her post-graduate studies in St. Petersburg with Auer's disciple, Julius Eidlin, and completed her formal training under David Oistrakh. In addition to pursuing her concert engagements, she is a distinguished and much sought-after teacher, a professor at the Mannes College of Music in New York, and gives annual master classes in Italy.