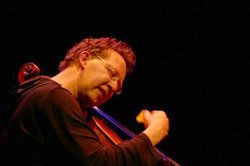 Ernst Reijseger
cello
I like to focus on using extremes. Things that may sound bad, boring, dirty or extremely loud: these are techniques that I do not want to neglet at all. I see those ways of expression as a quality, you can
work on and have to work on.

Ernst Reijseger, All About Jazz

Ernst Reijseger was born in Bussum, Holland, and started playing the cello at the age of eight.

From the early 70s he becomes involved in improvised music, playing with Sean Bergin, Derek Bailey, Martin van Duynhoven, Michael Moore, Alan Purves, and Franky Douglas. He is a long-time member of the Theo Loevendie Consort, the Guus Janssen Septet and the Amsterdam String Trio.

In 1985 he received the prestigious Dutch jazz award, the Boy Edgar Prijs 'because he is an important innovator in the field of improvised music... Ernst Reijseger plays the cello with an unrivalled craftsmanship and uses his talent enthusiastically to further the development of improvised music... The humor of his unexpected musical turns and the original and unconventional use he makes of his instrument add to the accessibility of his music.'

He has played with Misha Mengelberg's ICP Orchestra, the Gerry Hemingway Quintet, and Trio Clusone with Michael Moore and Han Bennink. Ernst Reijseger is frequently abroad, performing as a soloist and in a variety of international combinations, with such artists as Louis Sclavis, Trilok Gurtu, Voches de Sardinna, Franco D'Andrea and Yo-Yo Ma. A television documentary about Ernst Reijseger was made and broadcast in 1994.

In 1995 the Trio Clusone toured extensively in Australia, China and Vietnam, in addition to their regular haunts at the major jazz festivals of Europe. In the same year Ernst Reijseger was presented with the coveted Bird Award at the North Sea Jazz Festival.

Ernst Reijseger continues to perform with many renowned musicians in various exciting combinations, and yet he spends a good amount of time doing cello workshops for children and solo concerts.